It's a huge room full of middle school kids. Chatter rings off the gym walls as a flurry of basketballs pass from hand to hand. Most of the students would identify someplace other than the United States as their family's country of origin, so English mixes here and there with other languages. Despite their differences, they do what other middle school kids do. They pretend not to listen—or care—and they joke about everything while playing ball.
Until their coach says, "C'mon guys, listen up." And they do.
A good athlete in his day, Coach Marty Voge has decades on these kids. As a middle-aged, white man who's a lifelong Oregonian, he grew up in a world very different from the one they occupy. A retired educator with a wavy shock of graying hair, he keeps himself in good shape and has the trim frame of a man who knows his way around a gym. He has a loose, unhurried manner with the kids and they're quick to laugh together.
At first glance it might seem like his easy going style is the key to their connection, but it's not. He respects them, and demands they respect themselves.
They consistently rise to the challenge, which is remarkable given the kids' circumstances. Many are on the wrong side of the poverty line. It's a territory that forces them to deal with the tougher side of life at an early age. A place where brushes with authority can be prickly. But in Marty they see more than an authority figure;they sense someone who loves them.
It's a remarkable relationship, given that he didn't even know them a year prior.
Marty began his long journey towards working with these kids years before they were born.
Growing up in a family that didn't have much money, he loved that basketball wasn't an expensive sport to play. Marty soon discovered it was his first love. He was a good athlete and found the court was an apt showcase for his talents.
"When I first started to play as a kid, my dad fashioned an old 55-gallon drum into a crude basketball hoop for me, hanging it above the garage. All I needed was a ball. I thought it was great."
Beginning with youth basketball, he found his talents propelled him through varsity high school sports and on to college athletics. It wasn't all talent though. He embraced the grind, the hard work necessary to hone his skill and overcome any innate weaknesses. That work ethic somehow evaporated off the court though, and Marty soon found himself in need of some extra help. After a few youthful indiscretions and a scrape with the law, God brought a mentor into his life.
Dr. Whitney Bates went out on a limb more than once for the young Mr. Voge. He helped Marty find direction as the reality of the star athlete's basketball ceiling sank in—no prestigious Division 1 college or NBA for him. He realized he would have to find another path through life and was drawn to a career in education. He figured if he worked in a school, he could stay in the game he loved as a coach even long after his knees gave out. He'd already begun to coach some youth basketball teams and found that he was good with kids.
Through all of this, Marty really didn't have much of a relationship with God.
It's not so much that he was antagonistic towards the Lord. It's just that God didn't seem very relevant to someone whose life seemed to be going okay. Marriage into a well-to-do family dovetailed with the start of a career as a teacher and coach. Marty found himself with resources he'd never had before, including a beautiful, sprawling contemporary home in Beaverton. It seemed otherworldly for a kid who grew up without much. His childhood home was loving and the family's relationships tight, but so were their finances.
What looked good on the outside, wasn't built on a solid foundation though. Eventually, Marty's
first marriage ended in divorce, and in short order he found himself in a small, cheap apartment with few options and wondering what to do next. A good friend suggested that maybe he needed God. Again, Marty wasn't antagonistic, just unconvinced. Even so, he agreed to talk with his Catholic friend's pastor, a local priest. The conversation sparked a curiosity and a hunger to know more about God. Marty began the simple discipline of reading the Bible a little bit each day. The Daily Mass Readings were his guide.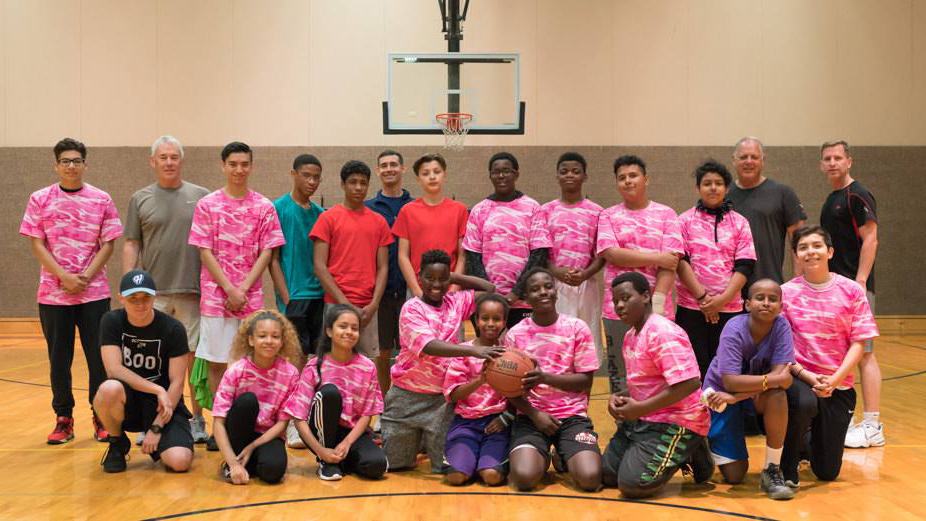 Soon, he found that he felt better when he spent time in the Scriptures. And he didn't feel as good when he missed those early mornings alone with God. He began to attend Mass, but found the liturgy left him wanting more. All of that changed when he met his current wife of 25 years, Matti. She invited him to Beaverton Foursquare. They began to attend regularly while dating, got married, and made B4 their home.
Somewhere in his heart, he'd always believed in God, always felt a tug towards a larger purpose in life. That simple belief blossomed into a lively personal faith in Jesus as he pressed into the teaching and ministry of his new church. Now he knew the "Why" behind his impulse to serve, and found new direction in where to invest his time. "I guess God has always presented me with open doors and I just walked through them."
After his retirement in 2006, those doors have led to leadership roles at Beaverton Foursquare with local Missions, Bright Hope English School, and 6th Grade ministry. Marty also serves regularly with Portland Rescue Mission and now in a new after-school basketball program that he founded for the kids at Meadow Park Middle School.
"One of the joys of retirement is that I have the time and resources to volunteer. Last year I was invited to help with Soccer Camp, and I agreed."
Marty served as a bus captain his first year at Soccer Camp. He supervised the kids who were picked up in their Merlo neighborhood. It was a good fit for someone who'd spent his career as a teacher and school principal. He was able to deal effectively with the kids who wanted to be disruptive. It didn't take long before his skills were in demand.
"I had to kick Abdullah off the bus on the first day. He'd tried to start a fight and was using profanity. He wasn't happy about it, but I told him he wasn't allowed back to camp the next day."
Abdullah still showed up the next day, head hanging down, clearly contrite now. Marty explained that the one day suspension was in effect. Abdullah was welcome to participate on day three if he was willing to apologize to the other kids on the bus for his behavior. The youngster agreed, and followed through the next day, participating for the remainder of the camp without incident.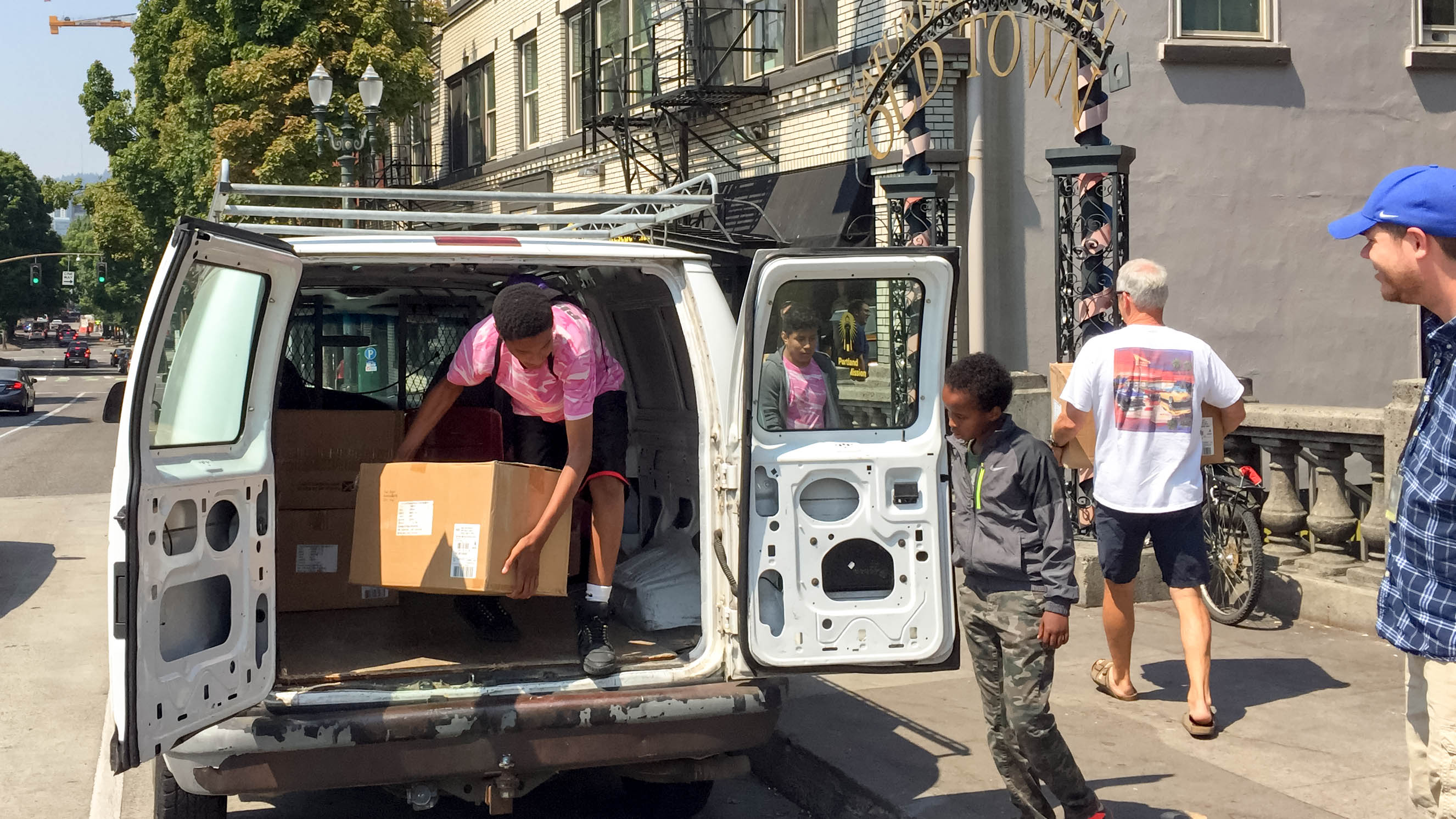 Marty's interest in the kids was piqued during the 2016 camp and he decided to invest some more time following up with them throughout the year. He visited them at Merlo Station and found out they loved basketball as much as soccer. He asked the kids if they'd like to play ball once a week after school. They were enthusiastic, but cited the poor condition of their neighborhood court.
That's when Marty decided to put his educator's experience to work. He contacted an administrator at Meadow Park and secured some space in their gym after school. One day a week throughout the school year, he gathered the former soccer players for some basketball.
"Most people just need some encouragement.They need to know they matter to someone."
He still had to deal with behavioral issues occasionally, but as the kids became convinced he cared about them and was going to stick around, they responded positively. Marty stresses that their time together is not just about basketball and life skills, as important as those are. "I prayed for them at the start of practice, and talked openly of my faith in Jesus. At first they kind of made fun of that, but I explained to them that this was important to me, and I asked them to respect that. Ultimately, they did."
Every time he raised the bar, they upped their game.
As they continued to meet weekly, the idea for a fundraiser to help others took hold. Marty recalls, "I forget exactly how we started talking about it, but we began to kick around the idea of a marathon basketball game that would raise money for the Portland Rescue Mission."
"At first the kids seemed more interested in six hours of basketball than helping others. But as they neared the event date, they began to realize they could actually make a difference in somebody else's life." With the help of some other volunteers from Beaverton Foursquare, the kids organized, promoted, and held a successful event that raised $3,500.00 for the mission. They also learned that they could accomplish more than they realized at first.
That's a reflection of their coach, Marty. During a time when most people are slowing down and kicking back, he's chosen to serve wholeheartedly in this new season. "I'm just grateful to have the opportunities. I'm so thankful I have the health and the means to do so. I know that I'll slow down eventually, but for now, I just feel grateful to be able to do the things God leads me into."
How does a kid like Marty grow up to be so richly impacted by the things that matter? How does he lead others in the way God's led him? The answer is simple. Somebody showed him the way, and then he asked God, "What do you want me to do now?". It was just a simple question.
And then a big door swung wide open onto a basketball court.