She never expected to have any issues given the doctor's confidence. Following her knee replacement surgery, Ana Maria started physical therapy to restore strength and mobility back in her right leg. But something was different. Though she used to easily walk a lengthy path near her home, a spirit of fear now prevented her from even starting—she was afraid that she wouldn't be able to make it back.
The motions of everyday life became more difficult, and time marched on. All she could do was pray. The doctor had told her that it wouldn't be unusual for one leg to end up shorter than the other, and he didn't seem too concerned; he also didn't offer much hope for relieving Ana Maria's pain. It was a heavy burden weighing on mind and body. Her son, Christian, noticed the physical pain beginning to take its toll on his mom. "As her son, I felt powerless to help. All I could do was pray," expressed Christian.
Every day, she would pray and ask God to heal her leg. And every day she would wait for an answer. She had seen God answer prayer throughout her life, so why not another answer? Why not now?
She reflected on the first time she sat down inside a church as a young woman after immigrating from Guatemala to the states. She had felt a heavy longing overwhelm her as the pastor shared a story, something she couldn't ignore. Her heart was drawn to the front altar, heart pounding in her chest, as she realized what had been missing in her life.
"I had always felt like I had so much work to do on myself before I could step inside the church."
Ana Maria felt a new sense of freedom fill her as she opened her heart to Jesus—the weight she had carried was lifted. She knew she still needed to work on her own life but now she wasn't alone: "Jesus will carry our burdens," she claimed in her heart that day.
This was just the beginning of Ana Maria's story with Jesus, and as her faith continued to grow and mature over the years, she continued to believe that he would still be faithful to hear her pleas for healing in her leg.
With this flourishing gift of faith, Ana Maria attended an Open Worship service hosted by Beaverton Foursquare's Mosaic Ministry with her family in March of 2017. Whenever she wasn't caring for her grandchildren, she loved these evenings and made it a priority to be there. This night was no different for her. She had hobbled in—weighed down and terribly uncomfortable—lacking confidence in her ability to walk. Her heart was heavy, but she was ready to ask for healing again. Ana Maria shared the difficulties and pain she had been experiencing and expressed that it hadn't yet improved. It felt like one leg was shorter than the other.
The person she was talking with asked her to sit down in a chair and put her feet up on the chair opposite of her. As she did, they put a book at the end of her legs. Sure enough, one leg was shorter. "Ana Maria, can we pray that your legs will be the same?" this person asked. "Of course," Ana Maria expressed hopefully. They laid hands on her knees and began to pray.
"In the name of Jesus, bring healing." They prayed strong, heartfelt prayers, their boldness and fervor rising in persistence like a heavy rain growing louder and louder. Then something inexplicable happened.
A warm sensation began to fill her right leg, and before her eyes, she watched as her leg ever-so-subtly began to move and extend. Her heart leaped in disbelief and warm tears began filling her eyes. "I felt my leg move! I didn't move it, and they didn't pull on my legs. It moved!"
Using the book as a test again, they confirmed that both legs touched evenly. The very moment she stood up, Ana Maria knew it was different. Her stance felt even and balanced, and she practiced moving her weight back and forth. She had experienced the touch of Jesus. Her son was across the room when he heard about a healing and as he came near, he knew in his heart that it was his mom. He could see a difference in her just as much as she could feel it.
As she walked out, she was filled with an affirming hope in God. The weight she carried was gone, and her spirit was filled with joy that her faith and God's grace on her life had healed her.
Within days of her healing, she headed back to the long pathway she hadn't walked since the surgery. Each day she would go a little further, gaining confidence with each step, and gradually stretching the distance. Since God healed her knee and wiped away her pain, she has been encouraged to spend more time in God's Word and build the faith of her family. She loves telling people about what God has done for her. "When people ask me how I am doing, I tell them 'I am good, God healed me!'"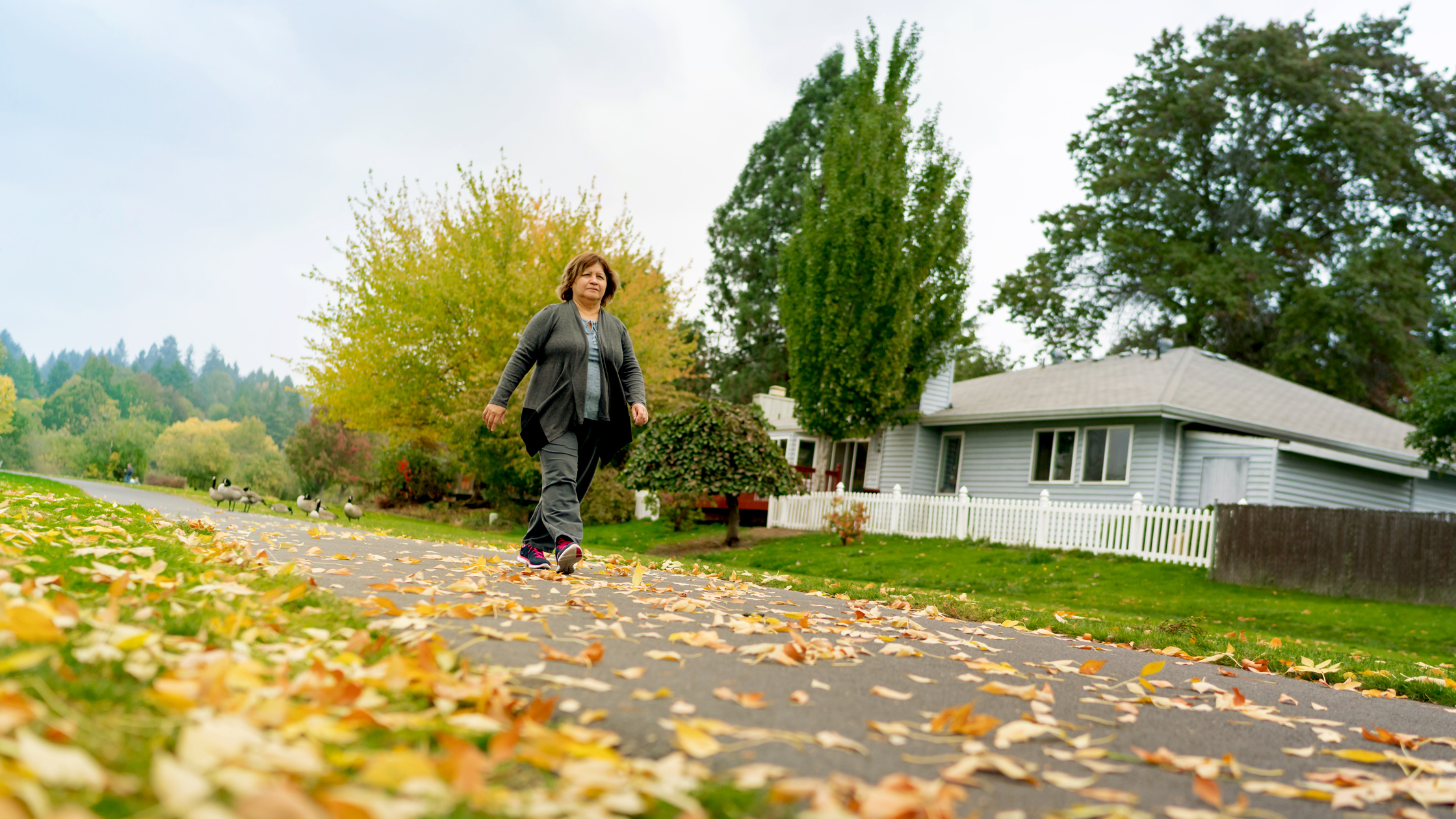 Though she and her family had prayed for months, Ana Maria knew that timing and healing were all in God's hands. "He is the same yesterday, today, and will be the same forever," she says, professing her faith in Jesus. Knowing too well that not everyone receives a specific blessing of healing, her desire is to share the hope that her story of healing could bring.
Ana Maria's faith and her prayer life continue to grow as her gratitude toward the Lord deepens. Her faith that God can and will work continues to be affirmed in her.
Her life has been truly changed. Not just in the way she physically walks, but in the way that she smiles and laughs with a deep and humble joy, rooted in Jesus.